NANCY C. BRADY
---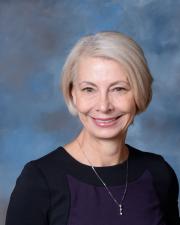 Ph.D., CCC-SLP
Director Ph.D. Program
ASHA Fellow
Speech Language Hearing Sciences and Disorders
She/her/hers
Biography
—
Nancy C. Brady is a professor in the department of Speech Language Hearing Sciences and Disorders and an Investigator in the Life Span Studies at the University of Kansas. Dr. Brady's research focuses on understanding how pre-speech communication develops, identifying aspects of pre-speech communication directly related to language development, and developing interventions aimed at promoting language by strengthening these foundational skills. A certified Speech Language Pathologist, Dr. Brady's research informs clinical practice, particularly for individuals with severe autism, Down syndrome, fragile X syndrome, rare disorders associated with intellectual disabilities, and children with sensory impairments such as deaf-blindness. Dr. Brady's research program has resulted in over 80 peer- reviewed journal articles plus an edited book, numerous book chapters and conference presentations. Her research has been supported by grants from the National Institutes of Health, US Department of Education and Autism Speaks. Dr. Brady contributes to the development of future clinicians and scholars through classroom teaching, mentorship and active participation in departmental activities.
Research
—
Nancy Brady studies the development of communication and language in young children and in individuals with developmental disabilities and autism. Her research has focused on describing development of gestures and pre-speech vocalizations, beginning augmentative communication use, and negotiations of conversational breakdowns. She is one of the creators of the Communication Complexity Scale, an assessment of prelinguistic communication behaviors.
Teaching
—
I strive to provide an engaging and inclusive environment for students, emphasizing experience-based education whenever possible.
Teaching interests:
research methods
language disorders
autism
language development
Selected Publications
—
Brady, N. (2017). Speech, Language, and Communication Assessments and Interventions for Individuals with Severe Intellectual and Developmental Disabilities. A comprehensive guide to Intellectual and Developmental Disabilities. Paul H. Brookes. [9781598576023.00].
Brady, N. (2013). Predicting Language Outcomes for Children Learning AAC: Child and Environmental Factors. Journal of Speech Language Hearing Research - Issue 5 | Volume 56.
Selected Presentations
—
Show Me What You Mean - The Goldstick Family Lecture. Location: Champaign, Illinois. (10-19-2017).
Stuck in the Middle: An overview of communication challenges faced by adolescents and adults with ASD - Communication Interventions for Adolescents and Adults with Autism. (3-01-2017).
Assessment and Treatment of Nonverbal or Minimally Verbal Children with Autism and Other Neurodevelopmental Disabilities. - Nebraska Summer Conference on AAC. Location: Omaha, NE. (6-10-2016).
Service
—
Nancy Brady is past Chairperson for the SPLH department at KU; past Chairperson for the National Joint Committee on Communication needs for Persons with Severe Disabilities; and an advisory board member for Community Living Opportunities.