Raúl Rojas
---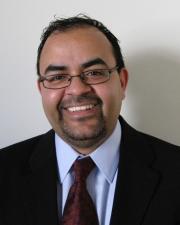 Ph.D., CCC-SLP
Professor
Department of Speech-Language-Hearing: Sciences & Disorders
él/he/him
Research
—
Dr. Rojas is a leading researcher in database-referenced bilingual language sample analysis (LSA), as well as specialized longitudinal, large-scale data analysis, and best practices for bilingual speech and language pathology.
Director of the Bilingual Language Laboratory at the University of Kansas, which is conducting a series of externally funded longitudinal and cross-sectional projects with bilingual children.
Routinely publishes studies of bilingual children's language development and academic achievement using large-scale, cross-sectional, and longitudinal databases and on the use of bilingual LSA.
Teaching
—
As a Speech-Language Pathologist (SLP) certified by the American Speech-Language-Hearing Association, Dr. Rojas provided bilingual (Spanish-English) clinical services in multiple settings, including public schools and early intervention, which inform his teaching.
Co-developed ability for SALT software (along with Dr. Aquiles Iglesias) to analyze bilingual language samples in Spanish and English, and provides professional development for SLPs, clinical researchers, and other professionals around the country.
Teaches courses focused on language disorders in children, bilingual assessment and intervention, and clinical research methodology with bilingual populations.
Selected Publications
—
Caughy, M. O., Brinkley, D. Y., Pacheco, D., Rojas, R., Miao, A., Contreras, M. M., Owen, M. T., Easterbrooks, A., & McClelland, M. (2022). Self-regulation development among young Spanish-English dual language learners. Early Childhood Research Quarterly, 60, 226-236.
Su, P. L., Rojas, R., & Iglesias, A. (2022). Dual language profiles in Spanish-speaking English learners. Journal of Speech-Language-Hearing Research, 65, 2608-2628.
Hiebert, L., & Rojas, R. (2021). A longitudinal study of Spanish language growth and loss in young Spanish-English bilingual children. Journal of Communication Disorders, 92, 1-15.
Castilla-Earls, A., Bedore, L., Rojas, R., Fabiano-Smith, L. Pruitt-Lord, S., Restrepo, M. A., amp; Peña, E. (2020). Beyond scores: Using converging evidence to determine speech and language services eligibility for dual language learners. American Journal of Speech-Language Pathology, 29, 1116-1132.
Rojas, R., & Irani, F. (2020). Classifying disfluencies in preschool and school-age Spanish-English bilinguals who do not stutter: An exploratory study. Perspectives on Fluency and Fluency Disorders, 5, 119- 130.