Steven F. Warren
---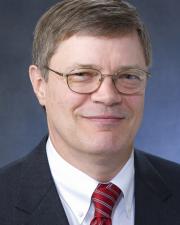 Professor Emeritas
Investigator in the Schiefelbusch Institute for Life Span Studies
Biography
—
I received my PhD in child and developmental psychology from the University of Kansas in 1977. From 1982 to 2000 I was a faculty member at Vanderbilt University and an Investigator at the John F. Kennedy Center for Research on Human Development. I returned to the University of Kansas in 2000 to become the Director of the Schiefelbusch Institute for Life Span Studies. In 2007 I became the Vice Chancellor for Research and Graduate Studies. I stepped down from that role in 2014 to teaching and research. I am presently Professor of Speech-Language-Hearing: Sciences and Disorders and an Investigator in the Schiefelbusch Institute for Life Span Studies.
Research
—
My research has focused on communication and language development in children with developmental delays and disabilities. Early in my career I contributed to the development of Milieu Communication Teaching, one of the primary approaches used in early language intervention. Much of my work has focused on the effects of different types of communication and language interventions and the manner in which children with specific disorders (e.g. Down syndrome) respond to these interventions. Over the past 20 years I have worked with colleagues to conduct several randomized clinical trials on the effects of these interventions on children's language development. I am also interested in the role of parenting in children's development. I am presently conducting a longitudinal study of parenting effects on children with fragile X syndrome. This research is presently funded by an R01 from the National Institutes of Health. Finally, early on I became involved in the development of LENA, an automatic device to collecting and analyzing large amounts of children's speech and their language enriching interactions with others in their environment. My research has been supported by grants from the National Institute of Health and the US Department of Education throughout my career. The impact of my research has been recognized by major research awards from the National Down Syndrome Congress (1999), the American Association on Intellectual and Developmental Disabilities (2008), and the American Psychological Association (2013).
Research interests:
children, language, communication, early intervention, developmental disabilities, Down syndrome
Teaching
—
I teach undergraduate and graduate courses in the Department of Speech-Language-Hearing: Sciences and Disorders
Service
—
I serve on a variety of SPLH Department Committees. I also participate in various committees and activities associated with the Schiefelbusch Institute for Life Span Studies.